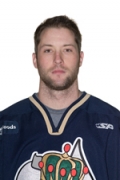 Panthers pulled yet another left field signing out of the bag tonight as they announced the capture of former Boston Bruins forward Jay Henderson. In order to bring in Henderson from CHL side Wichita Thunder, Panthers have released defenceman Mario Larocque and Swede Johan Molin returns to a standby contract. Larocque has been much maligned by the Panthers faithful, however it has been revealed that his father has undergone major surgery back in Canada. We wish Mario and his father well.
More surprising is the news that Johan Molin will be returning to Sweden on a standby contract. While not scoring a huge amount of points since his return, he still showed he was one of the best two way players we've had in recent times and he will be missed. It perhaps has to be considered that having his family back in Sweden was too much, and he cannot be blamed for that.
On to the new boy and the pedigree looks good. A career that spans WHL, NHL, AHL, DEL and Austrian Elite it's pretty obvious that the guy is no slouch. Described as 'gritty' and with 103 career fights, Henderson could be an ideal fit for the Panthers jigsaw, we've been screaming out for a hard man who can play a bit. Sean McMorrow will be pleased, looks like the sheriff will have someone new to play with!
It's not just fighting though, Henderson know where the net is, scoring 37 goals over the past two and a half seasons. I really hope that he is as impressive as his pedigree suggests, this could well prove to be a master stroke by Corey Neilson, I really hope it is.